Marbella, the place where the sun shines over 320 days a year, is famous for its spectacular sunny days, clean beaches and clear waters. It is also considered one of the top destinations among the international jet-setters. Marbella is also recognized for its beautiful Old Town and its top quality cuisine, with four restaurants awarded the prestigious recognition of Michelin stars. Some of the award-winning restaurants are: Skina, Messina, Dani Garcia and El Lago.
Clients staying in villas, yachts or any other holiday residences want to enjoy a great gourmet experience by a Marbella private chef without leaving the comfort of their home.
Whether it is a casual paella or a BBQ, birthday party or a Michelin star cuisine, our experienced chefs know perfectly how to adapt to our customer`s agenda, tastes and preferences.
Recently we held a bbq catering at a private villa in Estepona for 11 people. They needed both, private chef as well as waiter service. It was a familiar occasion and the menu was specially elaborated according to their tastes.
"I booked Marbella In Style for a barbecue at a private villa in April this year. I along with all our guests thought the food and service was excellent. The outfit was very professional, and I would definitely use them again."
User: Christine A.
For example, another service we did organize was one in which our customer wanted a private chef for a special birthday party at their Villa in Marbella, they asked us to deliver a special and familiar catering, the event venue decoration as well as taking care of the music for the event.
"We ask Marbella in-style to organize a special Birthday party in our Villa. we living abroad, we knew that it's very hard to organize an event when you are not in the location. Choose this company was the best solution, because we want a unique and exclusive event, and they understand exactly what we want and what we need. We don't need to think about anythings, they organize all event from the catering, the decoration of the garden areas, the musician, the photograph until the small details . we love the atmosphere that they create was exactly what we looking for ..color of the flowers and candelas ..the mise en place was perfect. All the organization was perfect and smoothly. The best part was the service and the amazing two italian Chef, all the menù was 5 stars quality. Thank you so much!"
User: Kanlaya P.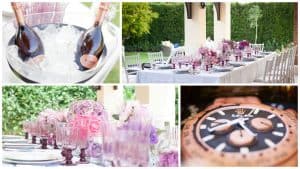 Another type of private party we have organized is one we did in a 82m yacht in Marbella. Our customer, who was cruising the Mediterranean with family and friends, asked us to create a "taste of Spain" atmosphere to enjoy the last day onboard before flying back to US. It was all about creating a special ambience: cuisine, music and decoration were all organized to give them the best Spanish party they could imagine in the comfort of their yacht:
"Thank you to Marbella In Style and especially to Julio, for a wonderful "Taste of" Spain" experience! At only 72 hours notice Julio created and hosted a fantastic tailor-made, private event onboard our 82m yacht for our American clients, who were visiting Spain for the first time. He and his team (which included musicians, dancer, a Ham Master, a sommelier and photographer) really brought everything Spanish to our dining room where we enjoyed the best tapas, olive oils, meats, cheese and wines that Spain has to offer. Everyone was an expert in their field and the event was put together swiftly, professionally and thoroughly – from the decorations to the dancing Julio had thought of everything and was a great pleasure to work with throughout the process! Muchas gracias y hasta la próxima vez!"
User: Kerry A.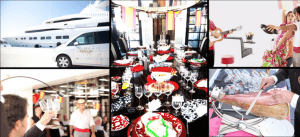 For other special occasion we organized a private chef service for a small group of people at a villa in Marbella. Our team is proud of exceeding our customer`s expectations.
Look what our customers said about the event:
"I will thank you for a great day with great food and service. All 12 people was very impressed. You will hear from me again when i come next time!:) And I will off course recommend you to others."
User: Tobias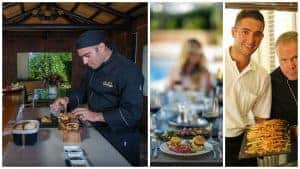 When thinking about holding a party with a private chef in Marbella, please do not hesitate to contact our team. They will help you creating a unique experience that will leave your guests with their jaws dropped.