What is a party without cocktails? Well, not a real party. Cocktails served at the bar are key elements of the success of any party, offering them will definitely add joy and fun to it and will make it something special that your guests will remember. As you know, these drinks are based in a variety of fruits, herbs or spices mixed with other liquid ingredients and a wide range of distilled alcohols such as: rum, cachaca, vodka, whisky, gin, champagne and tequila.
One of the easiest ways for having the party running smoothly and your guests delighted is by hiring experienced mixologists in Marbella that perfectly know the art of mixology. Endless are the possibilities at the bar of your summer party in Marbella, although some are the cocktails that come at the top of the list.
Mojito
This easy to make cocktail, traditionally from Cuba, is extremely popular among bartenders and mixologists. Ideal for the summer months, it gives a sensation of great freshness thanks to ingredients like mint and lime that make you feel like you are in a tropical holiday. Check you have the following ingredients ready at the bar, and for those originals make sure you include yerba buena.
Ingredients: rum, mint, lime, brown sugar and soda.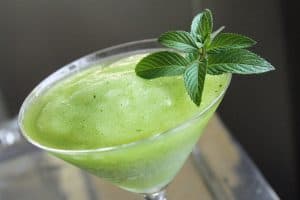 Source: enrilemoine.com
Caipirinha
A drink of this Brazilian cocktail will take you to taste this original cocktail made with cachaca, a distilled spirit with Brazilian appellation of origin, which is considered a Brazilian kind of rum. The main difference between these two drinks is that cachaca is made of fresh-pressed juice of sugarcane while rum is made of molasses.
Ingredients: lime, sugar and cachaca.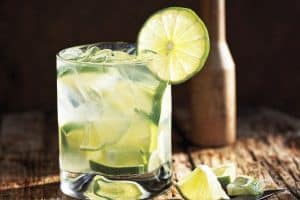 Source: americanwaymagazine.com
Cosmopolitan
The Cosmo cocktail is a drink made of vodka with a touch of acid fruit. It is one of the classic cocktails which can be considered similar to Margarita, which rather than vodka includes tequila. It is usually served in traditional Martini cups garnished with a fresh slice of lime or lemon.
Ingredients: vodka, triple sec, cranberry juice and fresh lime juice.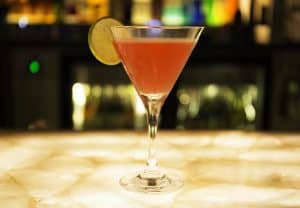 Source: crownmelbourne.com.au
Sex on the Beach
This full of color cocktail is a quite fresh, sweet and fruity drink, ideal for enjoying a summer party with friends in Marbella. Its origin is recent and goes back to the 1987 when Ted Pizio created this sensational drink to quench the thirst of many young people that flocked to Florida for their spring holidays.
Ingredients: vodka, peach schnapps, orange juice, and cranberry juice.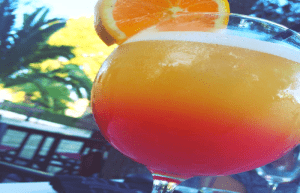 Source: vix.com
Summer Rye
This cocktail made out of scotch whisky is ideal for the lovers of this scottish drink. It is orange colored in appearance and is served in a highball or a champagne glass. The drink mixes aromas of lemon and champagne and it is usually garnished with apple cubes.
Ingredients: rye whisky, elderflower liqueur, simple syrup, lemon juice, apple juice and champagne.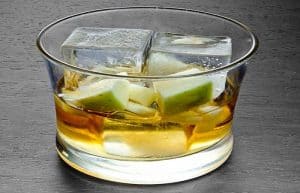 Source: liquor.com
Forgetfully, Fernet
It is said that this cocktail made of irish whisky possesses a high healing power after a hangover, it contains many herbs thanks to the Fernet Branca drink with which is mixed. Its freshness comes from the lemon and ginger which are also added to get that so characteristic taste. It is usually garnished with fresh mint.
Ingredients: irish whisky, Lemon juice, ginger, simple syrup, Fernet Branca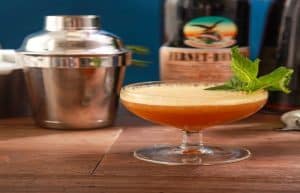 Source: fernet-branca
French 75
This French classic cocktail made of gin is ideal as an aperitif or also to be served at the bar. Its sober, elegant and distinguished aspect makes it a unique choice to go for when celebrating a special event. It is usually garnished with lemon peel.
Ingredients: gin, lemon juice, sugar syrup and champagne.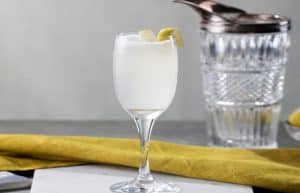 Source: Giles Christopher
Lady Killer
This fruity cocktail mainly composed of gin, passion fruit and lime is
an ideal proposal for the summer nights. It has an strong fruity component and the pineapple gives it quite a sweet taste. It is usually served in a champagne flute with ice cubes.
Ingredients: gin, orange liqueur, apricot brandy, passion-fruit juice and pineapple juice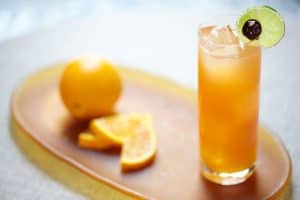 Source: thebar.com
Watermelon-Champagne Cocktail
This reddish cocktail is made of champagne, vodka, triple sec and lime. Although the mix of champagne and vodka may seem too much, its quite snowy texture provided by the iced watermelon gives it a perfect taste.
Ingredients: champagne, watermelon cubes, vanilla-infused vodka , triple sec and fresh lime juice.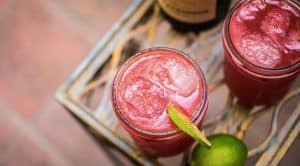 Source: purewow.com
Tequila Sunrise
This simple and evocative cocktail is served unmixed so that you can see the different layers of each ingredient. Its yellow-to-orange light takes us to a warm Mexican sunrise that shines from the highball glass in which is served.
Ingredients: tequila, orange juice and grenadine.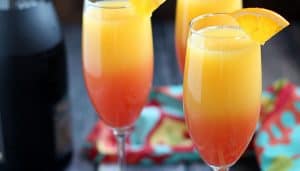 Source: theblondcook.com