Planning a wedding in Marbella may seem exciting at first for recently engaged couples, it is the time when couples start to think about the overall process of planning their wedding in such a special place: venue selection, floral arrangements, wedding invitations, wedding dress, event decoration, guest list, catering, etc… As time goes by, suddenly there comes a point where things get more stressful.
Marbella is the perfect place to hold an event like this. With more than 320 sunny days a year, it has a wide range of spectacular locations to celebrate your wedding: private villas, venues by the beach, hotels, golf courses, etc. When choosing the catering, there are companies with top-quality catering and attentive service, in addition to a wide range of professional photographers, decorators and musicians specialized in wedding celebrations in Marbella.
It does not matter whether you are just three weeks or five months away from the big day, there are many things and details to think about that can make your head spin. That is why we have prepared a list of things that can make planning your wedding in Marbella a much less stressful task.
1. It is all about the venue
For most couples, finding the perfect venue is a complicated task. Not only because there are real stunning places to celebrate your wedding in Marbella but also because it influences other aspects like the wedding decoration, vendors, budget and even the date. As we mentioned before there are in Marbella different options where to celebrate your wedding: private villas, beachfront resorts, the beach itself, five star hotels, golf courses, etc.
When selecting your perfect wedding venue, please take into consideration some of the following factors before you start visiting them: wedding date, number of guests, in-house venue catering, included time for party, guests transport, plan b in case of bad weather conditions and also remember to ask for previous referrals. Our team at Marbella in Style can assist you in finding the wedding venue that better fits your requirements and tastes.
Finding the right one is not easy, we work together with many wedding planners that will help you in finding the right venue for your wedding, planning and organising your wedding smoothly while attending to all your requests. At the end, hiring a wedding planner can save you not only money and but also a lot of headaches.
2. A wedding planner really helps
We all have dreamed about having a wonderful wedding, one like a fairy tale with the best memorable moments of our lives. For your big day, as we mentioned before, it is better to rely on professional hands that although may seem as an extra expense at first, it really makes the difference when planning, organising resources and solving last minute problems in a final sprint.
A wedding planner can make things much easier: finding the perfect venue, photographer, decorators, musicians, catering, invitations, transport, etc… It is also a local source of tips about catering companies, transportation for your guests, restaurants and nice places to visit while staying in Marbella.
3. All you need is patience
Many are the emotions that arise before and during such an special event. In the course of the event, bride and groom will be in the eyes of all: family, friends, neighbors, co-workers, it is an event to enjoy with all of them and will be kept in their memories as something unique.
What really can help you to be more relaxed when planning your wedding is giving yourselves at least six months in advance and no longer than nine months. With this time in advance and having the right professionals hired, you will both have time for planning and dealing with unforeseen circumstances and also it gives you the chance to make last-minute changes.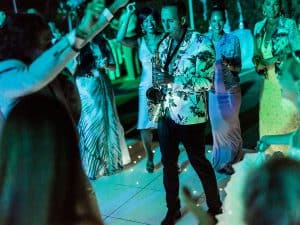 4. Let pros do what they do best
There are many resources and professionals involved in planning and executing a wedding in Marbella. To list just some of them: decorators, chefs, waiters, photographers, make-up artists, drivers, etc. For this reason it is important to have someone in charge of organising the staff involved, resources and making the event run successfully.
We have to keep in mind that for couples it is your first wedding but these professionals have worked in countless of them. For this reason we have to rely on that they are professionals and know how to do their job perfectly.
Marbella is a place where for many years now countless couples come to celebrate their wedding. To meet the demand, broad is the offer of venues of all kind, catering companies, decorators, etc. So having a wedding planner to coordinate all this services and that deal with all the vendors is an investment all couples would have to make.
Though it may sound odd, weddings are fun to plan when counting with the right professionals. When having enough time in advance and the right resources, you will find planning your wedding in Marbella as a rewarding process.
Hopefully you find these 4 tips helpful when planning your big day in Marbella!