Marbella is one of the hottest vacation destinations in Spain. This is where you go if you want uninterrupted sun, sand, and beautiful people. It's also very busy during the summer, when flocks of tourists descend from around the world.
If you want to experience the very best of Marbella, you need to visit the best beach clubs in Marbella. Here, you won't have to fight for your place in the sand. Better yet, you'll have knowledgeable and experienced staff on hand to provide drinks and food, live music and, when you don't feel like hitting the waves, the very best swimming pools.
Some of the best beach clubs in Marbella do allow children to visit during the day, provided they are with an adult. However, in most cases, parties at night are adult only events.
Marbella beach clubs take the experience of visiting this amazing part of Spain to the next level. So, if you're ready to see the beaches the way the rich and famous do, make sure you check out these top beach clubs in Marbella.
Nikki Beach
Okay, it's technically the beach, but with extensive wooden decks, an amazing pool and food that is better than many restaurants in Marbella, it's an experience all it's own. This club features a variety of areas on the sand and off, so you can choose if you want sand between your toes or not.
This was the first beach club in Marbella, and the fact that it's still around and at the top of this list is enough to tell you what you need to know. As far as Marbella beach clubs go, you can't do much better.
This beach club is usually open from April to October.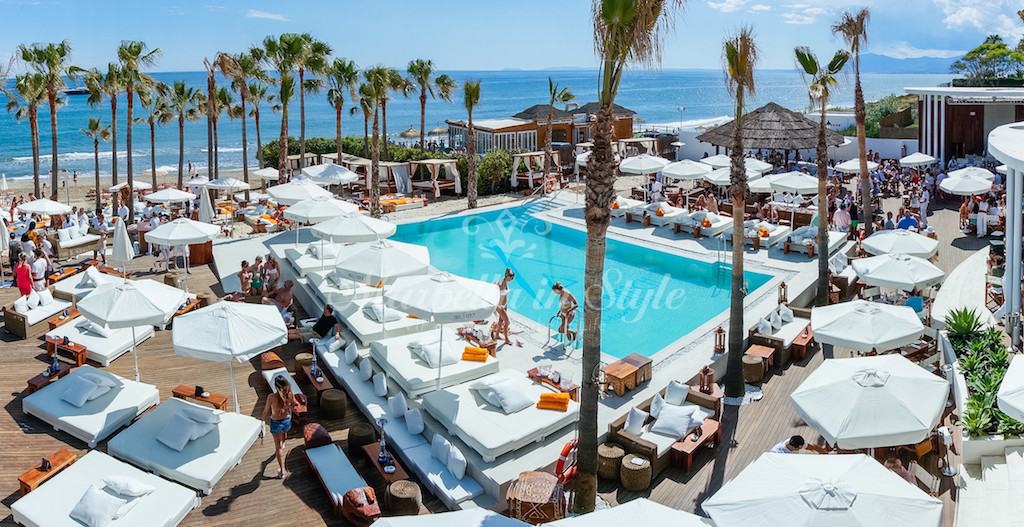 Ocean Club Marbella
Ocean Club Marbella is actually located in Puerto Banus. It is located right alongside the beach and features an enormous deck and patio area and a spectacular crystal clear pool.
This Marbella beach club does not do things by half measures, and that includes lounging. No small sun loungers here – you'll get a full round bed to sprawl on as you soak up the sun. During the day, this, like many Marbella beach clubs, is laid back and relaxed, but in the evenings, expect pool parties and live entertainment. There's a restaurant that serves a wide variety of lunch options, and an extensive cocktail menu to keep the party going all day. Ocean Club Marbella opens in April and closes in September, and if you want a bed at the pool, you do need to book ahead.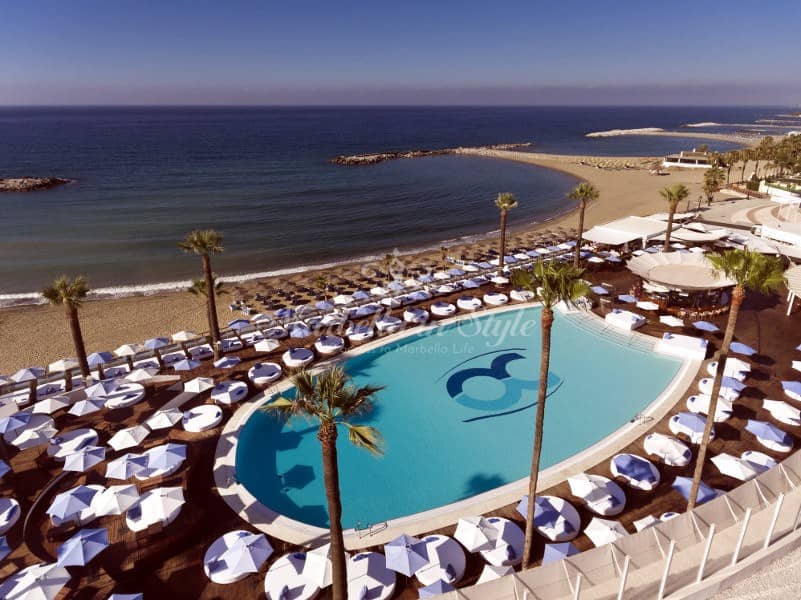 La Sala By the Sea
Another one of the top beach clubs in Marbella that are located in Puerto Banus, this one is smaller and therefore a lot more exclusive. Everything is taken care of, from the valet parking service to lounger side food and drinks.
There's a good selection of seafood and Asian inspired dishes from the restaurant, and while the pool might not be the biggest out there it's good for a cooling dip. Because this beach club is smaller, you won't see the wild parties you might elsewhere, but if you just want to relax in luxury, it's perfect. La Sala By the Sea opens in April, and you do need to prebook a bed for your visit.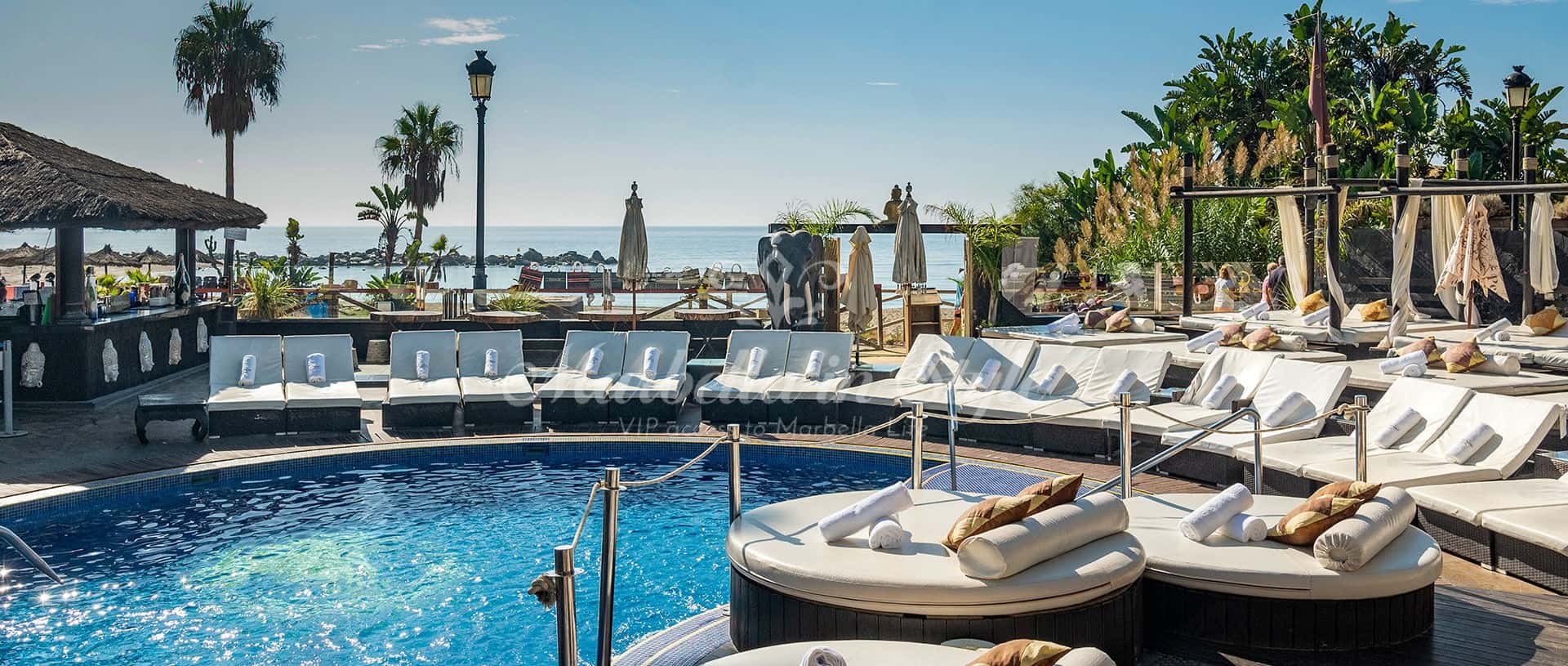 Club Del Mar
Club Del Mar is a little further west, at the five-star Villa Padierna Palace Hotel. While it is certainly one of the best beach clubs in Marbella, it's only open during the day – between 11am and 6pm to be exact. So, while you can't party the night away beside the pool, it's perfect for days when you have evening plans already.
This beach club does offer everything you can imagine in the way of luxury though. In fact, this is one of the few places you will visit where there's a caviar menu! So let your luxury loving flag fly and be sure to add this beach club to your list of Marbella must see!
Club Del Mar is open all year round!!!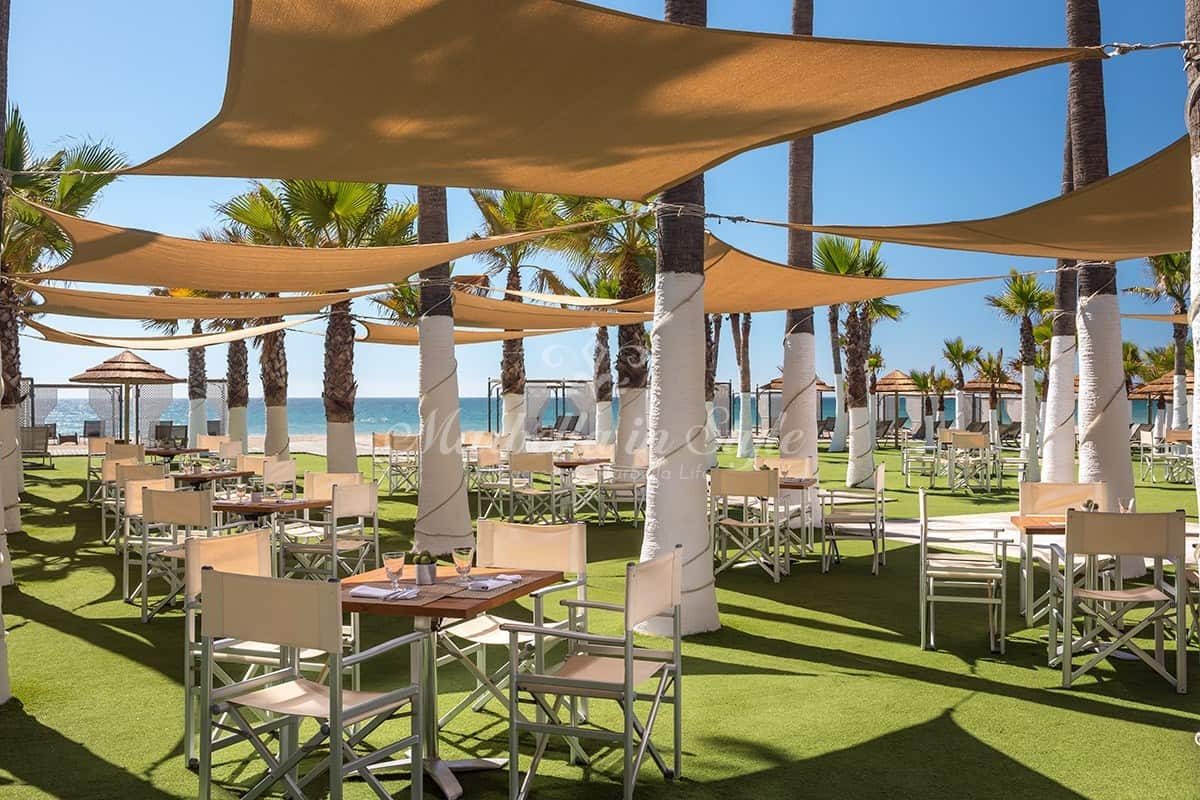 Purobeach Marbella
Puro Beach is closed at the moment due to weather conditions suffered in Marbellla last year.
If you think the best Marbella beach clubs should come with a variety of places to eat, boutiques for shopping and other amenities as well as cocktails and luxury service, Purobeach is probably the place for you. Not only will you get all that and more, but there are live DJs, water sport rentals and hammocks to rent. In fact, since this whole complex was purpose built to redefine the idea of a luxury beach club, there's not much you won't find here! Purobeach Marbella is open all year round, but closed Mondays and Tuesdays between November and March.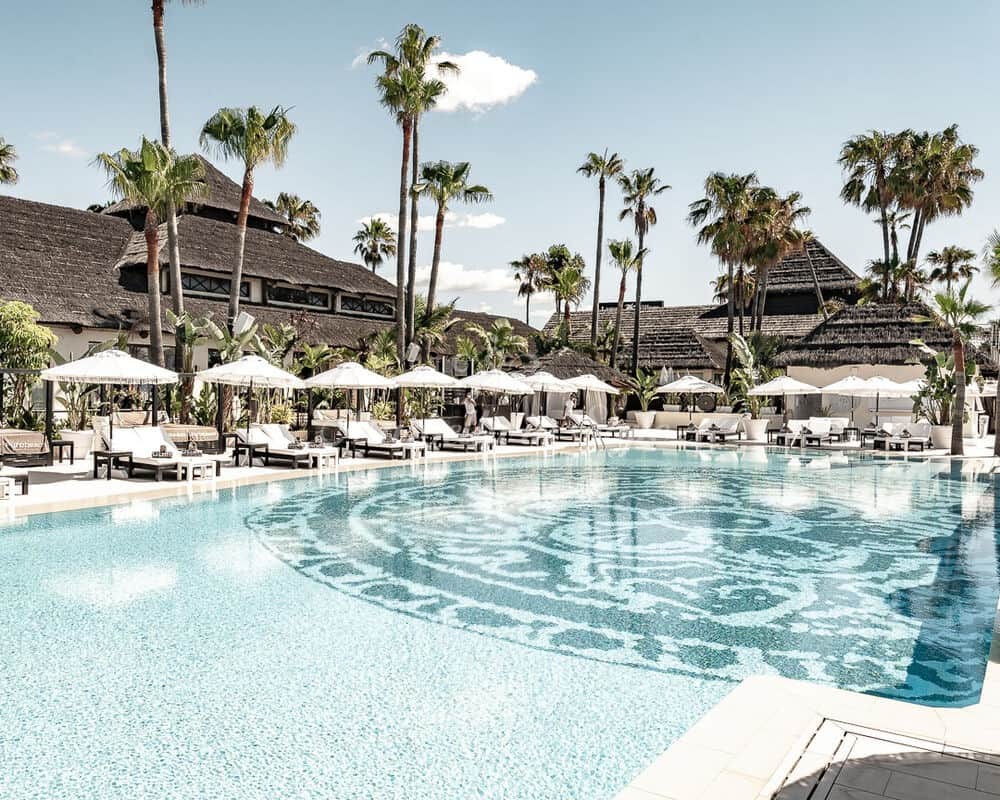 How a Concierge Service Can Help?
There's no denying that there's a lot to see and do in Marbella. It's one of the most sought after beach holiday destinations in Europe for good reason!
That can mean that it's quite daunting to work out your itinerary before you arrive, which is, of course, a catch 22 situation. Many of the best beach clubs in Marbella require you to prebook, but it can be hard to tell which ones you will enjoy the most.
A concierge service like Marbella in Style can not only handle the logistics of planning your itinerary and booking your visit to various attractions, but they can also recommend which ones you should make part of your trip.
There are so many things to do in Marbella, that even if you are visiting for a week or two, you will need to prioritise the things you want to see and do.
Trusting people who are knowledgeable about Marbella to help you find and book the perfect experiences and attractions is a great way to make your trip as worry free and enjoyable as possible. After all, if you're heading to some of the best beaches in the world, all you really want is to put your feet up and enjoy it!