When thinking about travelling to Spain, Andalusia definitely comes at the top of the list as it is a jaw-dropping travel destination. Not only because of their astonishing landscapes and historic cities like Seville, Granada, Cordoba and Jerez, but also due to their huge culture heritage, delicious tapas, authentic flamenco music, historic traditions and breathtaking UNESCO World Heritage Sites. Andalusia has seven Heritage Sites inscribed by UNESCO, to name some of them: Alhambra, Generalife and Albayzin (Granada), Cathedral, Alcazar and Archivo de Indias (Seville) and Historic Centre of Cordoba.
Either if you like the mountain or the sea, Andalusia has something for you. For example you can visit the Sierra Nevada mountains with the highest point of mainland Spain, Mulhacen at 3,478 metres above sea level, or visit the clear waters of its idyllic beaches bathed by the Mediterranean and the Atlantic, there is no excuse for not planning a visit to Andalusia. Apart from those picturesque landscapes and cities, the sympathy and warmth of its people, there is also its delectable cuisine and tasteful dishes and tapas like: gazpacho, salmorejo, serrano ham, paella, grilled fish – "espeto" and garlic shrimps, delicious dishes that make your mouth water as soon as they are presented at the table!
What better way to get to know Andalusia than with an excursion of one or various days to one of those amazing cities. Everything is much easier when travelling with an organized private tour, which main advantages includes: local guided instructions and tips, private transportation with pickup and drop off at your doorstep, skip-the-line tickets to access the main attractions, etc.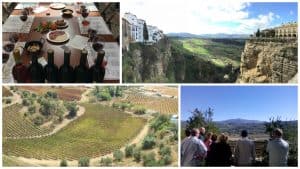 One of our most popular tours is the Winery Tour of Ronda, where we visit two family-owned boutique wineries and learn about how the wine is elaborated, while tasting exceptional tapas.
Here is the impression of one of our customers about this tour:

"The private wine tour and walking tour of Ronda was one of our most memorable events of our entire visit in Spain. Julio was so accommodating and informative! We had a group of 8 and Julio arranged for a mini-bus pick up at the local residence in which we were staying. He stopped to allow us a light authentic breakfast and then through the beautiful countryside to the first vineyard/winery. It was beautiful and the wine tastings were great. He then took us on a walking tour of Ronda which was spectacular and we wrapped up with a visit to a very small organic vineyard and had wonderful wine and one of the best lunches we had during the entire visit to Spain. I would highly recommend Marbella-In-Style and be sure to ask for Julio. You won't be disappointed!!"
User: Meresa M.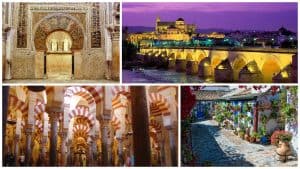 Another popular tour for our clients staying in Marbella is the private tour of Cordoba, located two hours drive from Marbella, where you can visit the Mosque – Cathedral, the Jewish Quarter and Cordoba Historic Centre. In the following lines you may read another of our client`s feedback. In any of these tours, transportation from your doorstep, main attractions tickets and some extras depending on the tour are included.

"You MUST – ABSOLUTELY MUST contact Julio at Marbella in-Style. I just recently made a trip to Marbella, Spain. My friend and I decided that we would make our own reservations instead of going through a travel agency. Boy are we glad we did. We contacted Julio at Marbella in-Style to schedule our own personal tours (not the ones on a bus with 20 other people). Our tours went from Marbella to Granada, Ronda, Cordoba, and Tangiers. It was so easy and very convenient. Julio and his driver picked us up in a private car at the time we wanted, took us where we wanted to go, and ate when and where we wanted. Julio's motto is "Anything is possible." It was awesome. Julio is very well versed in English and other languages and very knowledgeable in the history of Spain and the places he took us. Julio has a great personality and above all we felt safe and well taken care of by him. I highly recommend Marbella in-Style as a top of the line service and money well spent. I only wish there was a Julio and Marbella in-Style everywhere I travel. I definitely will contact Julio and Marbella in-Style next time I visit Costa del Sol. All I can say is, "Thank you Julio from the bottom of my heart for a wonderful experience of Spain." I will be sure to refer all of my friends and family to Marbella in-Style."
User: Vrisayda P.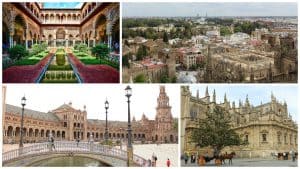 One of our clients' preferred tours is also the private tour of Seville, in this tour we visit Plaza de España, the Alcazar and its historic Cathedral followed by a horse carriage ride around the historic and magnificent center of Seville.
Here is one of our clients' feedback about the tour:
"I took my elderly parents and aunt to Seville on a private tour with Marbella In Style while holidaying in Marbella. I had been to Seville many years ago for a long weekend.
….Seville is small – the historic sights are all close by. So we actually got to see as much as I saw on my long weekend! It was very surprising how much Lana managed to fit in and it was all done like clockwork!
Lana was wonderful – the tickets to all the sights were pre-booked by her and we didn't queue for anything. Lana was very friendly, professional and my parents loved her! We had great fun. Lana was informative but we also laughed a great deal!
Communications with Marbella In Style were swift, courteous and very professional. I was so pleased I had booked a private tour with them rather than an ordinary mass tour. We had the mini van and Lana to ourselves and the driver was brilliant, driving us to Seville and back in comfort and style without any problems. Lana was aware of my parents' mobility issues and took this into account and was very kind and sweet with them. I have taken several private tours in Italy and France and this was undoubtedly the best.
I cannot recommend Marbella In Style highly enough, it was worth every Euro, the highlight of my parents' and aunt's trip, and will use them again in the future."
User: EtonCourt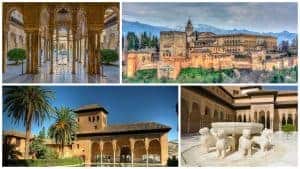 When travelling to Andalusia you can not miss visiting Granada. In this private tour of Granada, it is a must-see the stunning viewing-point of San Nicolas, where you enjoy a breathtaking picture of the Alhambra and the amazing Sierra Nevada mountains behind. This tour normally includes the Alhambra and Albaicin tickets, a walking guided tour of Granada and Generalife Gardens, Alcazaba Fortress, the Nasrid and summer Palaces and the Palace of Charles V.
Here is the impression of one of our customers:
"My husband and I had a private tour of Granada for the day. Julio, our guide was very friendly, spoke excellent English, informative and showed us all the sights we wanted to see. Our driver was very good and we had a very comfortable journey there and back. The guide at the Al-Hambra was excellent and we had a great day out. We were shown the streets of Granada and witnessed students hanging out on the streets and in the snack bars. We found the tour fascinating from start to finish and we were delighted with the whole experience.
I would definitely recommend this tour company if you fancy a private tour seeing the sights of Spain."
User: Sharon F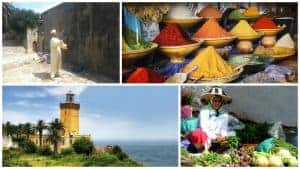 Another option if you spend your holidays in the Costa del Sol is visiting Morocco, which is located south from Marbella. Most of the people can not believe that just in two hours from Marbella you can be in another continent, Africa! In this private tour of Tangier we take a ferry in Tarifa and discover the great city of Tangier, with 1 million population and located in northwestern Morocco. With a local guide we discover Tangier, visit the Medina, walk around its narrow streets and even have a camel ride. We experience Tangier to its fullest!
Here you can read the impressions of some of our clients that took this tour:
"Our main reason for hiring a private tour was the fact that we had a 4 month old baby. We needed a tour company that would be patient and understanding for us taking breaks to feed and change the baby, and Julio and his team were most accommodating. We took tours to Seville and Morocco. Enjoyed both trips immensely. Would highly recommend. Lana was great in helping us plan these trips…she was so much friendlier than another tour company we contacted, and was the main reason for us hiring Marbella in Style."
User: BradfordR
When thinking about booking a tour of Andalusia, please do not hesitate to contact our team. They will do their best to make the most of your visit where you will truly experience the beauty of this paradise in the South of Spain.