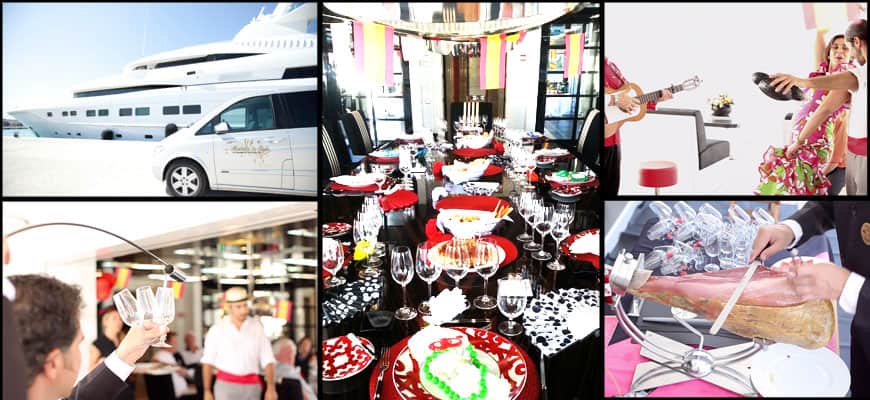 Marbella has plenty of options and ideas to offer when we talk about parties. Thanks to its climatology and variety of locations, Marbella is an ideal place to party. The most popular and loved ones are beach parties, poolside parties, private BBQ and dinner parties, cocktail parties, etc. But for those who ale looking for something really exquisite and classy a perfect choice would be a private yacht party.
Some time ago we have had a pleasure to organise a themed Taste of Spain party onboard a private 82m yacht. That time it was pretty challenging for us as we have had less than 3 days to get everything organised and ready. And there was a special request from our clients to make a kind of introduction to Spanish culture to their guests who were visiting Spain for the first time.
From the very beginning we have carefully thought about the concept of a party to make it more rather than just a meal. Being onboard gave us both and advantage and some restrictions; there was a limited space for setting-up a dining area for 10 guests but on the other hand we have had that relaxed and chilly Mediterranean atmosphere. To emphasise that mood of Spanish riviera and to highlight a wide gastronomic offer of the region we have carefully chosen delicious Andalusian style menu alongside with a ham master skilfully carving a top-notch quality piece of Iberian jamón and a venenciador spectacularly pouring the best sherry wines of Jeréz. These two traditions gave an authentic touch and made a perfect introduction to a gourmet culture for our clients and we the role of both professionals in bringing out a truly Spanish taste was undeniable. A skilful ham master with his impeccable carving technique has definitely upgraded the taste of jamón turning the process of serving a starter into a kind of show. And a professional venenciador, whose name comes from a special instrument- venencia- used for pouring sherry wines, has not only entertained the audience by eye-catching way of serving wine from a height to help sherry to aerate and open up when it strikes the glass, thus enabling the tasters to fully appreciate its characteristics, but as well he has covered the role of sommelier introducing the guests into traditions of viticulture in Andalusia. And a final touch was made by a little flamenco show with obligatory guitar playing, singing and dance performance.
For us the best appreciation from our clients was their cheerful mood and a delightful comment afterwards:
"Thank you to Marbella In Style and especially to Julio, for a wonderful "Taste of Spain" experience! …was a great pleasure to work with throughout the process! Muchas gracias y hasta la próxima vez!"  Kerry A.