Marbella strongly holds the position of top destination on the Costa del Sol over the last 10 years. And this fact is proven by almost 2,5 million of tourists coming to Marbella annually. As the result not only the highways are busy during high season but the airports as well and sometimes it is quite a task to find direct flights or decent connecting flights that arrive to Malaga during day time. But this inconvenience could be easily solved with a highly developed infrastructure that has become one of the distinctive features of Costa del Sol and Marbella in particular.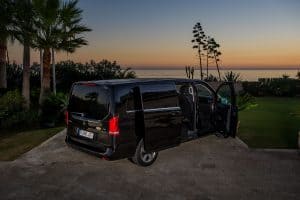 There are several airports apart from Malaga that are located relatively close to Marbella:
Málaga International Airport, 50 km, apr. 50 min, from 100€
Gibraltar International Airport, 75 km, apr. 1h20¨, from 125€
La Parra Airport, Jerez, 170 km, apr. 2h, from 270€
Federico García Lorca Granada Airport, 170 km, apr. 2h, from 250€
Seville Airport, 260 km, apr. 2h30¨, from 300€
Book your best flight connections and we will take care of your airport transfer to Marbella in style. We are delighted to present Marbella in-Style transfers from each of the mentioned above airports. We guarantee you will enjoy your transfer from the very first moment, a booking process will take you less than one minute, your personal chauffeur will meet you at the airport and will drive you safely to your destination. And please be sure you will be indulged with a smooth drive on the coastal road offering you breathtaking views over Mediterranean.
Our main goal is to exceed your expectations with the quality of our courteous and discreet services. All our chauffeurs speak both Spanish and english, on your request we may provide Russian, French o Arabic speaking staff. Your personal chauffeur will help you with luggage or any other issue that may occur on the way. We invest our best efforts in what we do.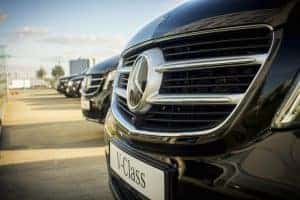 No matter which airport you land in, you may choose among our fleet a type of luxury vehicle that suits you needs. We are to offer you:
luxury Mercedes S-Class
business Mercedes E-Class
spacious Mercedes V-Class
comfortable minibus Mercedes to accommodate bigger groups.
All our cars a totally insured, secure and of the latest models. You will be delighted with comfortable and careless private experience.
Upon your request we may provide additional options of VIP lounge such as fast track and porter services both for the arrival and departures. Please see our page for more detailed information about Malaga Airport VIP services.
And to reassure that you are totally convinced, please, find couple of testimonials from our clients who has already enjoyed our Private Transfer Services:
Really great experience with professional service provided by an excellent driver and team. Thank you for being punctual and thank you for your professional courtesy extended to me by your very kind driver ! – Abdurraheem K., July 2016

Our driver was waiting for us, the Mercedes was immaculate, he drove safely and swiftly and we got there in such style – Sara B., June 2016

"Marbella In-Style" were very helpful and efficient from start to finish in the booking process. I booked a 30 seater coach to collect 15 guys from the airport and all went smoothly. Very helpful and good service! Would recommend! – Chloe R., July 2015

Our driver was there (at the airport) as promised with the champagne cooling for us. He was absolutely brilliant, a very interesting man, chatty and friendly. Yesterday evening he was there (at the hotel) as promised on time waiting with a smile for us. – Teresa E., November 2013